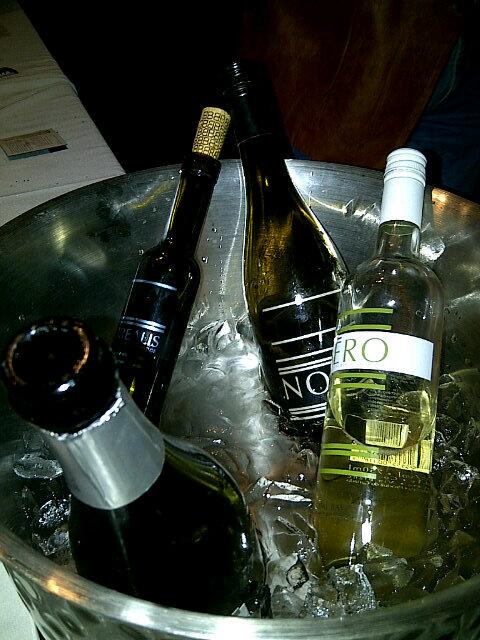 Selections from Nova Scotia's
Benjamin Bridge
Me: So, you wanna come with me to a wine tasting?
Hubby: Sure. Where's it going to be?
Me: At the Britannia Yacht Club.
Hubby: Oh ... (delivered in his best
Thurston Howell the Third
voice)
The Yawt Club? Bryllyant, lovey, simply smashing. Do have a lovely time, will you?
You have to admit, telling someone you're going to a wine tasting at a yacht club sounds a little high-brow,
n'est-ce pas
? But this tasting was far from being pretentious. The west- and east-coast hospitality of
Ann Sperling
and
Peter Gamble
just doesn't work that way.
Ann and Peter share a fat portfolio of successes between them, both as individuals and as a power couple in the wine world. She's won acclaim as the winemaker at
Southbrook
,
Malivoire
, and
CedarCreek
. He was the founding executive director of the
Vintners Quality Alliance
, and a sought-after consultant at such places as
Ravine Vineyards
and
Stratus
.
Currently, they are doing a smashing job at
Benjamin Bridge
(Nova Scotia),
Sperling Vineyards
(British Columbia) and
Versado
, a small-lot start-up on an ancient plot of Malbec vines growing in Mendoza, Argentina.
This was a first for Debbie Trenholme's
Savvy Company
, having wineries from BC and NS together for a taste-n-buy. So, too, was the locale a departure from the usual glitzy, red-carpet night out at the NAC; on the inside, the yacht club was cozy, intimate and welcoming ... especially in the middle of a spring blizzard that raged beyond the wall of windows overlooking the Ottawa River.
Sipping, noshing and chatting with both talented winemakers, I made my way through flights of their most recent vintages, as well as a few gems from the library and bottle samples of what was in the queue.
There was one constant among all the wines that needs to be noted: unbelievable clarity. Brilliance. The whites poured like the purest spring water, unblemished, without a trace of sediment. The reds were glimmering garnets and bordering-on-purple rubies. I asked Sperling's vineyard manager Rickard Branby about it; he confided that, with Ann and Peter, nothing less than absolute perfection would do. "There's no 9 out of 10, or even 9.5," he said. "It's always a 10."
Here are some of those "10s" he was talking about.
Benjamin Bridge 2009 Brut
(Gaspareau Valley, NS) - Compared to the 2007 Reserve, this one is the keeper. Puckering fresh citrus and minerality with a flinty finish and tight bubbles.
Benjamin Bridge 2013 Nova7
- Their 'flagship' wine, no doubt about it. This stuff gets torn from the shelves at the LCBO faster than the product consultants can place them. This vintage held a faint orange-pink sunset glow. Grapefruit, lily of the valley and talc on the nose; a measured sweetness and firm acidity, with notes of Meyer lemon and citrus curd to round it out. Definitely going to stock up when it comes out later this year; for now, there are still a few of the 2012s at the LCBO.
Sperling 2012 Pinot Gris
(Kelowna BC) - Clear white gold in the glass. A grassy and herbaceous nose with an undercurrent of pencil lead. Subtle citrus and long-lasting acidity on the palate ... then a curious but delightful hint of smoke pops up right at the end.
Sperling 2011 Old Vines Riesling
- Classic petrol with muted tropical fruit and spice. Complex mélange of well-rounded fruit tinged with honey.
Sperling 2011 Old Vines Foch
- Where the whites were sterling-silver, the reds were glowing rubies and garnets; this one deep blood-red with a thin, tight rim. On the nose, tobacco, tree bark, raw cocoa and blackberries. Soft, round tannins get punched in the face with tart cherry flavours, giving it a chewy aggression that lingers.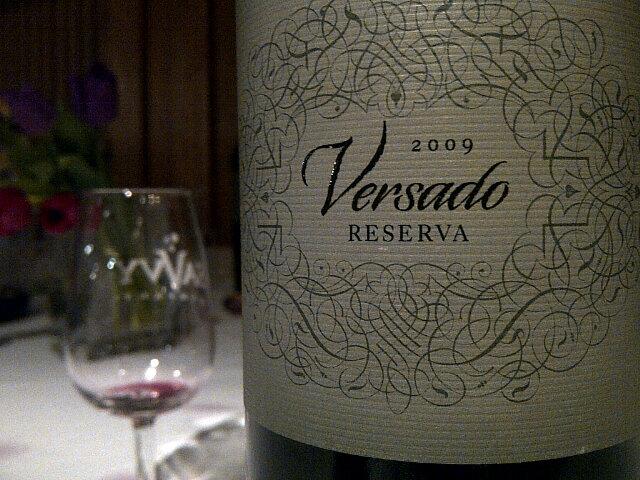 Versado 2009 Reserva Malbec
(Mendoza, Argentina) - Best wine of the night. A soft, almost fuzzy pinkish-ruby colour with warming hints of cinnamon, plum brandy and licorice. The mouthfeel is plush and velvety, while the graceful finish is spiked with chili-infused dark chocolate. Ready to drink now or age for 20+ years. (While I didn't try either, the 2012 Classic and the 2010 Reserva are
both available at the LCBO
.)